Margaret Cordelia Garlitz Miller
Daughter of Noah Sylvester and Martha McKenzie Garlitz
Born 09/26/1881 at Pea Ridge, Maryland Died December 22, 1962. Obituary
Married Edward Miller
CHILDREN
1. HENRY CLAY
3. MARY MILDRED
4. JOSEPH VICTOR b. September 1, 1910 d. March 15, 1930
5. JOHN CECIL b. April 20, 1912 d. 1913
8. PAUL DANIEL
9. ELVA LAVERN
THE DESCENDANTS OF EDWARD AND MARGARET CORDELIA (GARLITZ) MILLER HAVE A FAMILY REUNION ON THE SECOND SATURDAY OF JULY EVERY YEAR. THE SITE OF THE REUNION MOVES FROM YEAR TO YEAR SO FAMILY MEMBERS DO NOT ALWAYS HAVE TO TRAVEL FAR FROM HOME.
Information and notes for this family line are from Linda Molyett.
---
son of Margaret and Edward Miller
HENRY CLAY MILLER married Leora Chaney
b. February 9, 1901 d. 1997
Leora Chaney was born d. 1983
Notes: Henry Clay was known to his family as "Clay". He and Leora had a farm in Somerset County, PA. Clay also worked for many years at Bethlehem Steel in Johnstown, PA. When he was 70 years old they sold the farm and moved to Bedford St. Johnstown, PA. They are both buried in Johnstown, PA.
CHILDREN:
GERALD married Marie
children:
1. Judy married Brad Browne
2. Jeffrey
EDWARD married Diane
children:
Andrew
Rebecca married Benjamin Peterson
---
daughter of Margaret and Edward Miller
LUCILLE IRENE MILLER b. August 25, 1904 d. 2000 married Henry Zinn
Notes: Lucille and Henry lived in Corona, CA in the last half of their lives.
CHILDREN:
MARY KATHLEEN married George Loney
ROSE MARIE (deceased)
Notes: Rose Marie lived in Washington and that is where she died.
CORDELIA married Dan Carr
1. Rick married Holly
2
3
---
daughter of Margaret and Edward Miller
MARY MILDRED MILLER married Rexford Owen Bittinger
b. August 1, 1907 . d. June 28, 2003 obit
Notes: Mary Mildred is known to family as "Mildred". Mildred and Rex lived near Grantsville, MD most of their lives. After Rex's death, Mildred lived with her daughter near Pittsburgh.
CHILDREN:
A. REXFORD OWEN JR. married Judy
Tim
Mike
Kimberly married _?_ James
B. MARY MILDRED married James Hengelsberg
Mona
Tim married _?_
Margie
Lisa
Jeff married _?_
Kris married Jack Hall
Amy married _?_ Evans (divorced)
C. PATRICK
D. REGIS
---
CATHERINE ROMAINE MILLER SMITH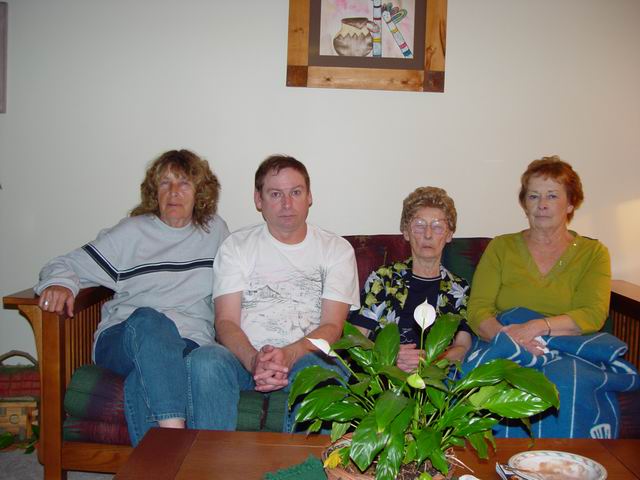 Photo of Catherine Romaine (Miller) Smith, daughter of Margeret and Edward Miller, taken on her 90th birthday in 2006. Pictured with her are her children JoAnn Eslora, John Joseph Smith and Catherine Romaine Riffey.
daughter of Margaret and Edward Miller
CATHERINE ROMAINE MILLER married John Smith
b. March 8, 1916 d.
Notes: Catherine Romaine is know to family as "Romaine". She lives in Cumberland, MD.
CHILDREN:
A. JOANN b. Oct 13, 1944 married James Swick (divorced)
Children:
James Edward Swick
Raymond Lee Swick
Kimberley Denease Swick (Khan)
Josette Ann Swick (Forbeck)
Crystal Lynn Swick
2nd marriage Alberto Eslora
Note: Joann and Albert live in Texas.
B. CATHY married Melvin Riffey
b. d. Aug. 25, 2001
Chris
Brian married Vanessa
Note: Melvin is nicknamed "Rif". Cathy and Rif live near Shepherdstown, West Virginia.
C. JOHN JOSEPH
---
son of Margaret and Edward Miller
HAROLD ANDREW MILLER married Jan. 18, 1941 Helen Laura Kirian . b. January 15, 1920 b. October 16, 1922
Notes: Harold really is called by his given name. Harold left home as a young man and spent some time traveling the United States as a "hobo" jumping trains. As he was headed back to PA he had the occasion to stop in Tiffin, Ohio where he met Helen. He never did make it back to PA to live. Harold enlisted into the army in 1943 to serve his country during WWII. He was sent to the Pacific. He returned home from the war in 1943. He and Helen have lived on 2 farms, first one was near Bascom, Ohio and the second was near Republic, Ohio (from 1950-1984). Harold is retired now from farming and also from ITT (formerly the Sterling Grinding Wheel in Tiffin). They currently reside in Tiffin, Ohio.
CHILDREN:
A. ROBERT BRUCE b. July 4, 1941 married July 2, 1960 Nancy Carol Hoyda b. Dec. 19,1942
Note: Robert Bruce is called "Bruce" by the family. He is a truck driver and Nancy is noted for her wonderful abilities as a baker. They live near Old Fort, Ohio.
Timothy Joseph married Linda (divorced) b. Sept.14, 1960
2nd married Penny
Tim married Kiara Nicole
Justin
Shiloh
Samantha
b. Steve married Dana
Zachary
c. Joe
d. Jessica
e. Alisha
Note: Tim's older 2 sons, Tim and Steve, are Penny's natural children and have been adopted by Tim. Tim and Penny live in Texas.
2. Anthony Michael b. July 17, 1962
3. Gwendolyn Kay b. Dec. 2, 1963 married July 14, 1982 James Stallard Jr.b. Aug. 23,1963
Jason b.Nov. 3,1983
Stacey
4. Brian Robert married Sept. 12, 1998 Tami Brooks
b. Aug. 22, 1973
Jon
Samantha
Zachary
B. RODNEY HAROLD married Aug. 17,1967 April Montgomery
Kerr (divorced)
b. Jan. 21, 1943 b. April 11, 1947
Montgomery Kerr-Miller
born Oct. 17, 1968 d. Nov. 26, 1988
2. Allison Kerr-Miller married Oct. 10,1992 Steve Almason
born May 3, 1971
2nd marriage April 17, 1976 Annabelle Catherine Atenica
3. Kathryn married John James Mound
a. John James Mound III (deceased)
b. Tyler Montgomery Mound
4. Deanna married Jeff
Hunter Firebaugh
Erica Firebaugh
5. Karen married _?_ Kelly
Kristina Kelly
Note: Rodney's children #3,4 & 5 are stepdaughters. Son, Montgomery, was murdered in Washington D.C. Rod and Anna live in Albuquerque, New Mexico. Allison is an attorney in Baltimore, MD.
C. WANDA LOUISE b. Aug. 1, 1944 married Nov. 21,1964 Donald Francis Haubert b. Sept. 28,1938
Note: Wanda and Don live near New Riegel, Ohio. The two children that died in infancy are buried at St. Andrew's cemetery, Liberty Twp., Seneca County, Ohio.
1. Brenda Ann b.Dec.18,1966 married Sept. 21,1985 Neil Kelbley
a Ashley Rose b.May 30, 1984
b. Andrew b. Dec.20,1986
c. Amanda b. May 30, 1990
d. Austin b. Nov. 13,1994
2. La Donna Marie b. Dec.23,1967 d. Jan. 15, 1968
3. Larry Andrew b. May 2, 1969 d. May 4, 1969
4. Cathy Jean b. July 26, 1970
5. Ronald Allen b. March 18, 1972
6. Roger Andrew b. Sept. 25, 1977
D. SANDRA KAREN married April 5, 1969 Richard A. Shafer (divorced)
b. Dec, 11, 1946 b. Aug. 18, 19??
Note: Sandy was a WAC in the army for about 10 years during the Viet Nam War. She now lives in Virginia near Fort Lee.
1. Cheryl Ann Shafer b. Nov. 5, 1975 Lampman married May 3, 1997 Christopher Delano
Tyler M. Shafer b. July 12, 1992
Jessica Marie Lampman b. Jan. 15, 1998
Christina Marie Shafer b. Sept. 16, 1979 married June 3, 2000 Shawn Ratliff
a. Alexis Michaela b. June 9, 1999
E. SHARON LAURA b. Feb. 22, 1952 married Delbert Charles Nye (divorced)
1. Kenneth Neal Nye b. May 3, 1973 married July 21, 1997 Julie Dible b. July 21, 1997
2. Michael Charles Nye
2nd marriage Sept. 17, 1994 Evan Earl Ebersole
Note: Sharon's husband Evan, goes by the nickname "Butch". Sharon and Butch enjoy participating in pre-1840 historical reenactments. Both are very good with muzzleloaders, tomahawks and knife. Sharon has been a past national champion in shooting; maybe she inherited this talent from one of our grandmothers of the past! Butch and Sharon live in Republic, Ohio.
F. LINDA ANN b. April 28, 1958 married Aug. 26, 1978 Robert Allen Molyett b. Jan. 16, 1959
Note: Linda and Rob live near Attica, Ohio. Rob is a physical therapist. They are both kept busy with their 3 boys, who are active in sports and scouting. As a result both Linda and Rob volunteer with Boy Scouts. Linda also teaches CCD classes at the church.
Robert Allen Molyett II b. Sept. 13, 1984
Matthew David Molyett b. Feb. 13, 1987
Benjamin Andrew Molyett b.Dec. 2, 1988
G. DALE ANDREW b. Sept. 19, 1963 married May 14, 1990 Akemi Mauato b. Aug. 5, 19??
Note: While serving in the Air Force, Dale was stationed in Japan where he met his wife, Akemi. Dale currently is a Major in the Air Force Reserves. They live in Southern California.
Christopher Hiroyuki Miller b. June 9, 1991
Eric Kentaro Miller b. June 8, 1994
Brett Haruki Miller b. Feb. 9, 1999
---
son of Margaret and Edward Miller

PAUL DANIEL MILLER b. April 22, 1922 married Arlene Sanner

Notes: The immediate family calls Paul Daniel by his middle name "Danny".

He and Arlene had a farm in PA but now live in Lakeland, Florida.

CHILDREN:

A. PHILIP

B. MAXINE (DECEASED) married Larry Zimmerman
???
C. COLLEEN (DECEASED)
D. TERESA married _????_ Stein
1. ????
E. VICKI LYNN married _???_Mc Cauley
---
daughter of Margaret and Edward Miller
ELVA LAVERN MILLER b. July 11, 1926 married Jan. 31, 1948 John Edward Kirian b. January 23, 1927
Notes: Elva LaVerne has went by many names but the one used most often is "Vernie". Vernie came to Ohio to visit her brother, Harold. Vernie met Helen's brother, John, and became a permanent resident of Ohio. John and Vernie live on a farm near Republic, Ohio.
CHILDREN:
A. JOAN CAROL
b.Jan.7, 1949 d.Jan.7,1949
B. DAVID JOHN b. June 29, 1950 married Aug.1, 1970 Daisy Mae Shiley b. Sept. 21, 1949
1.Tonya Sue Kirian b. Dec. 17, 1971 married Feb. 20, 1993 Thomas Paul Marvin b. Feb. 7, 1974
a. Alec Michael Marvin b. July, 12, 1992
b. Tyler David Marvin b. Aug. 16, 1996
c. ??_
2. John Waldo Kirian b. March 11, 1977
3. Joshua David Kirian b. Jan. 31, 1982
C. MICHAEL URBAN b. July 1, 1951married July 20, 1974 Sue Ellen Bowser b. Aug. 7, 1950
(divorced)
1. Mona Dustine b. Sept. 12, 1970married Oct. 15, 1994 Brian Allen Huffman b. Oct. 13, 1965
a. Kaitlyn Ann Huffman b. Sept. 27, 1995
b. Drew Michael b. June 30, 1998
2. Marlo Anne Kirian b. Oct. 22, 1972
a. MacKenzie Rae King b. April 20, 1998 Note: MacKenzie's father is Stoney King
3. Michelle Marie Kirian b. Dec. 28, 1974 married June 12, 1998 Gregory Edward Schwab (divorced)
4. Milissa Karen Kirian b. Dec. 28, 1974 married July 23, 1999 Donald Wayne Harrison
a. Wayne Harrison b. ???
5. Janie Elizabeth b. Feb. 5, 1980
D. THOMAS PAUL married June 18, 1976 Theresa Irene Jett
b. Dec. 6, 1952 b. May 12, 1958
E. STEPHEN JOSEPH b.Feb. 28, 1956 married Christine Sue Boundinot b. Dec. 25, 1960 (divorced)
1. Jason Allen Kirian b. Nov. 13, 1982
2nd married Jan 12, 1990 Kim M. Potteiger b. Aug. 12, 1961
2. Ryan Nathaniel Hess b. Sept. 19, 1979
3. Lisa LaRae Hess b. Dec. 5, 1981
4. Emily Rose Hess b. April 24, 1987
5. Jessica Leigh Kirian b. Nov. 12, 1988
---
THE DESCENDANTS OF EDWARD AND MARGARET CORDELIA (GARLITZ) MILLER HAVE A FAMILY REUNION ON THE SECOND SATURDAY OF JULY EVERY YEAR. THE SITE OF THE REUNION MOVES FROM YEAR TO YEAR SO FAMILY MEMBERS DO NOT ALWAYS HAVE TO TRAVEL FAR FROM HOME.
---