Isadore and Elizabeth Garlitz
Photographs, stories and additional information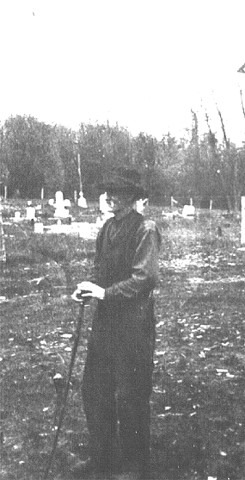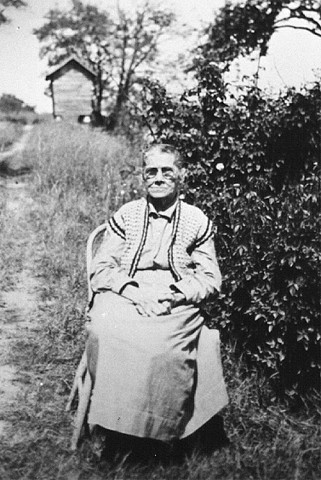 Isadore and Elizabeth Garlitz
Isadore is standing next to St. Ann's Cemetery. Elizabeth is sitting at the top of the hill above the home place.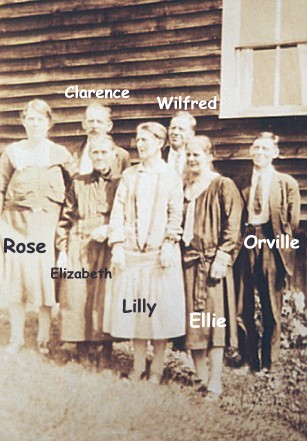 Elizabeth: wife of Isadore
Wilfred: son of Isadore
Orville: son of Isadore
Clarence: son of Isadore
Ellie: daughter of Isadore
Rose: daughter of Isadore
Lily: daughter of Isadore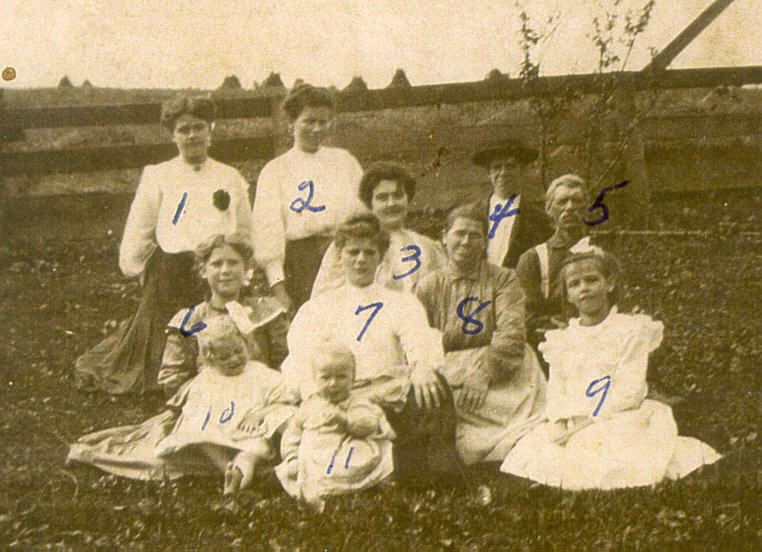 Elizabeth with some of her children, grandchildren, relatives and neighbors. 1906.
Back of photograph reads: 1 Emma Broadrick 2 Annie McGowan Hughes 3 Maggie MckenzieWilhelm 4 Wilfred Garlitz
5 Moses McKenzie - brother to Elizabeth 6 Rose Garlitz Winner 7 Ella Garlitz McGowan 8 Elizabeth Garlitz 9 Martha Broadrick 10 Julia McGowan 11 Bernard McGowan
Annie McGowan Hughes - sister-in-law to Ella Garlitz. (Please help identify: Maggie MckenzieWilhelm, Emma Broadrick, and Martha Broadrick. Does Maggie fit into the family tree? It is believed that the Broadricks were neighbors, but no relation. Broadrick names do appear in the St. Ann Parish records.)
More on Moses McKenzie: "My mother talked about him often --as she remembered him well. ...called him "Uncle Mose." He never married and always made his home with Isidore and Elizabeth. The property had come into the Garlitz family from Elizabeth . He made wooden shingles which she said were wonderfully done. Moses was born in 1848 --son of Jeremiah and Mary Catherine McKenzie --- who were cousins --- married by dispensation. Moses was a deaf mute .... never learned to talk my mother said --- as that was before they knew how to teach them. Mary Catherine's father was Samuel McKenzie and he had three deaf mute children!" From Joan Yokum Collins, daughter of Julia McGowan Yokum, granddaughter of Ella Garlitz McGown.
".... During the intervening years it was Moses McKenzie who kept faithful watch over the House of God. Whenever any repairs were to be made they were not delayed even for a day. Indeed, it may be questioned, whether St. Ann's would have survived the ravages of so many years, had not he stood ready with saw and hammer. In all truth he could say: 'I d, O Lord, the beauty of Thy House, and the place where Thy glory dwelleth.' Psalm 25:8. .... In 1913.... Moses Ignatius McKenzie, the brother of Mrs. Isidore Garlitz, with who Moses made his home died. Moses was single and led a most exemplary life. As already mentioned, no work at the church within the scope of Moses' skill was ever left undone. He was a patient sufferer during his long illness, and died on July 5, at the age of sixty-five, fortified with the rites of the Church. His body reposes in the cemetery at Piney Grove, within the shadow of St. Ann's, awaiting the dawn of a glorious resurrection." from History of St. Ann Mission
About the Garlitz property: Joan Collins is correct that it came into the Garlitz family through Elizabeth. More precisely, however, it came back into the family through Elizabeth. Henry, son of Christian III and grandfather to Isadore, bought the home farm from his family, but sold it in 1859 to Leo and Jeremiah McKenzie. Elizabeth inherited the old Garlitz farm from her father Jeremiah. When Isadore married Elizabeth, she brought the property with her. Thus the old Garlitz homestead returned to Garlitz hands.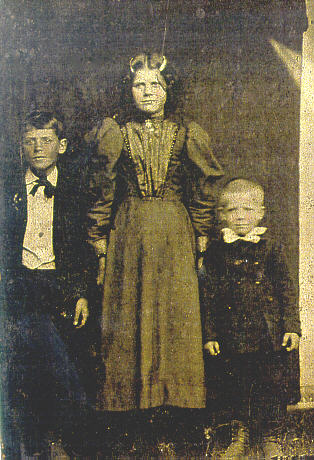 Orville, Ellie and Wilfred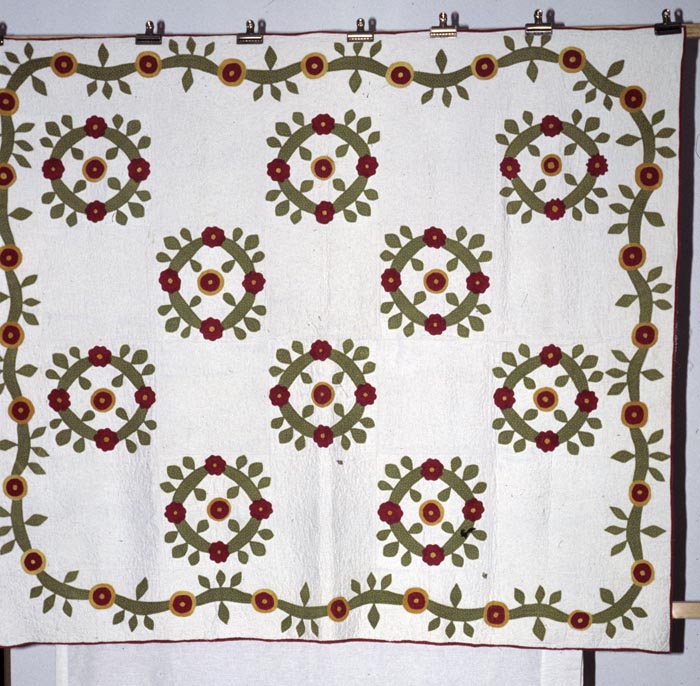 GARLITZ, MATILDA ELIZABETH. PRIMITIVE. 1873. From West Virginia Department of Archives and History, West Virginia Heritage Quilt Search. Published in The Quilt Index, http://www.quiltindex.org/basicdisplay.php?kid=50-8A-C15. Accessed: 01/25/2012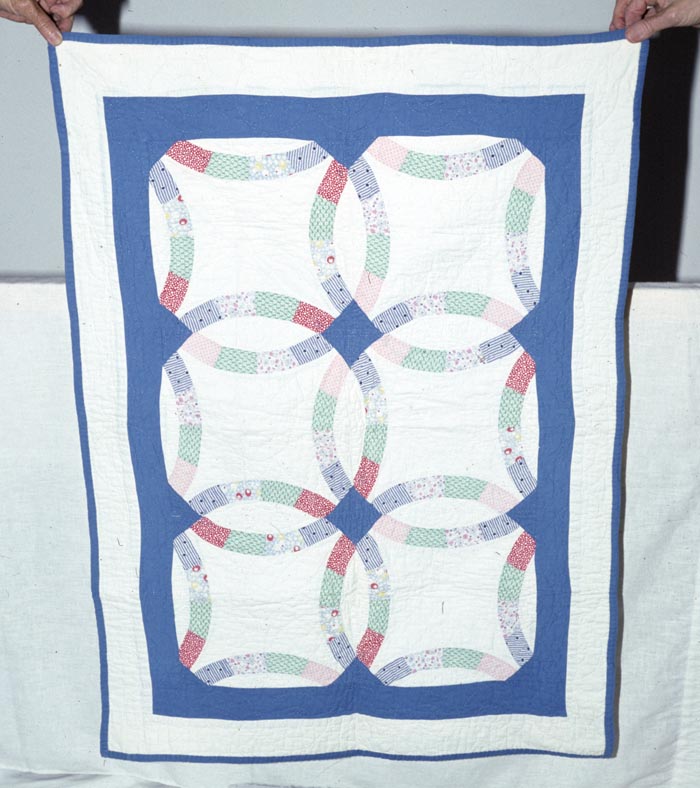 GARLITZ, MATILDA ELIZABETH. DOUBLE WEDDING RING. 1930. From West Virginia Department of Archives and History, West Virginia Heritage Quilt Search. Published in The Quilt Index, http://www.quiltindex.org/basicdisplay.php?kid=50-8A-C16. Accessed: 01/25/2012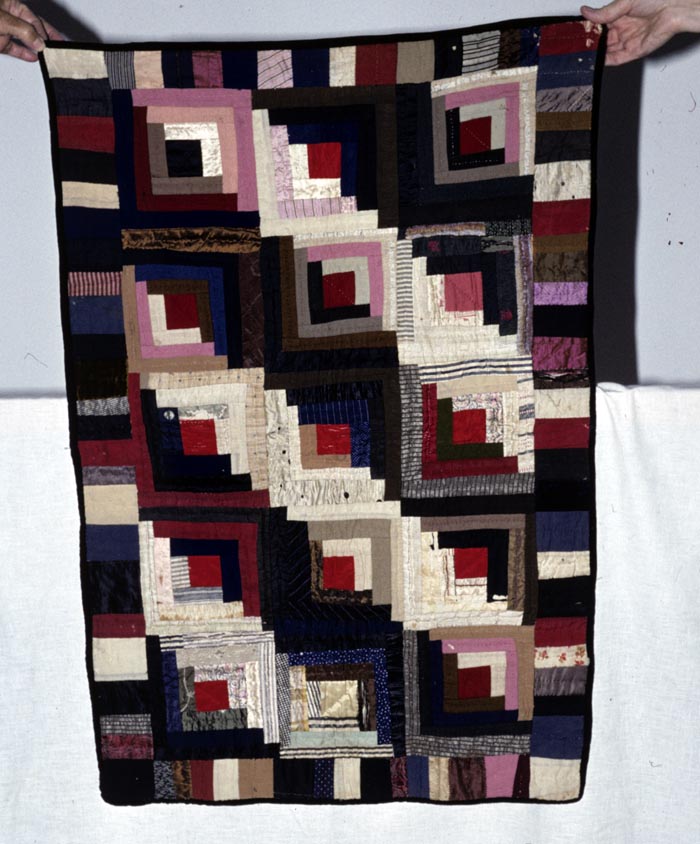 GARLITZ, MATILDA ELIZABETH. LOG CABIN. 1900. From West Virginia Department of Archives and History, West Virginia Heritage Quilt Search. Published in The Quilt Index, http://www.quiltindex.org/basicdisplay.php?kid=50-8A-C17. Accessed: 01/25/2012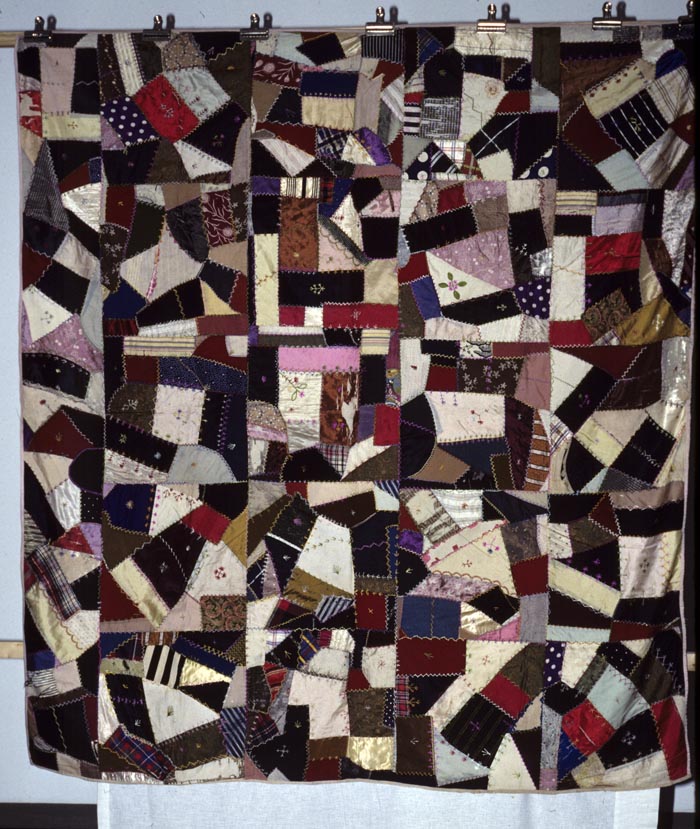 GARLITZ, MATILDA ELIZABETH. CRAZY QUILT. 1890. From West Virginia Department of Archives and History, West Virginia Heritage Quilt Search. Published in The Quilt Index, http://www.quiltindex.org/basicdisplay.php?kid=50-8A-C18. Accessed: 01/25/2012

---