Western Pennsylvania 1783
When Pioneer Garlitz moved to Western Pennsylvania around the time of the Revolutionary War he may have studied a map similar to this one.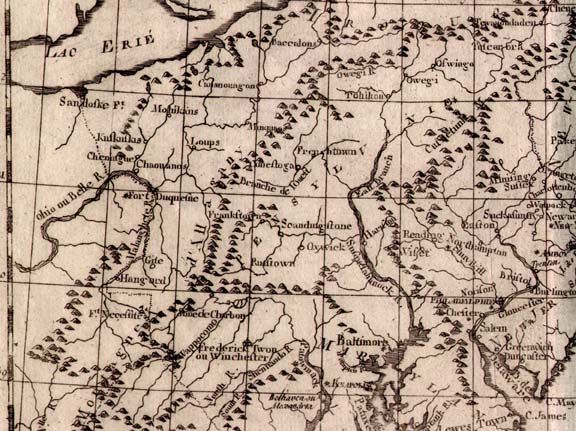 1783 CARTE DE LA PARTIE NORD, DES ETATS UNIS, DE L'AMERIQUE SEPTENTRIONALE, NO. 47 LIV XVII ET XVIII, by Rigobert Bonne, from Atlas De Toutes Les Parties Connues Du Globe Terrestre. The map depicts the east coast from Viginia to Maine and west to Ohio, but only the Pennsylvania region is shown here. Fort Duquesne and Fort Necessity are marked. There were several versions of this map c1782-85 and there is a companion map showing the southern states 'partie sud'. This is one of the first maps to carry the name 'United States', but in French 'Etats Unis'. Longitude is west from Paris at the bottom and east from Ferro at the top. Blank verso. Scale:1"=65 miles. Size: 9.75 x 14 inches.